Water Damage Cleanup Testimonial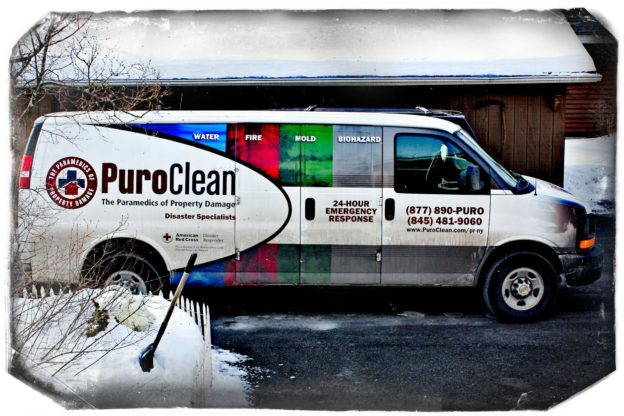 I've been trying to avoid Facebook with this whole disaster but I have to publicly give the biggest thank you ever to PuroClean Professional Restoration.
We keep this house over 84 degrees all winter long (not by my choice) and still pipes upstairs in a crawlspace managed to burst in a chain reaction right around the outside walls. Yup, Carmelo was traveling and me and the girls were home alone. Water took out our entire living room, dining room, front porch and a room in the basement. Yup it went 3 floors down. The Palenville fire dept. came right to my rescue and helped me shut down everything and make sure the house was safe enough until Carmelo got home.
I had to make the call to John from PuroClean at 9am and he was standing in my kitchen by 9:35 (still don't know how he got here so quickly) Of course as you can imagine my phone call to him was a total panic call and with just a few words he managed to chill me out before I finished the story (poor Carmelo, after 20 years still does not have that ability!). He checked everything out and within 20 minutes, John had a crew of guys here and they got to work so quickly it was all a blur! I thought ok dry it out! NOPE! Walls gone, ceilings gone, and all blown insulation. Ryan, Severo, and Chris worked here hours on end for 5 days straight, and actually had the ability to make me smile and laugh a bit between panic modes. They left my house cleaner then I ever imagined, minus walls and ceiling, but the work was done perfectly and professionally, and it was clean! My hardwood floors were perfect and shined! My furniture is 90% gone but that can all be replaced, And somehow they even managed to save my living room walls (thank god)!
I cannot thank these guys enough for all the work they did to help us through this. Its going to be a long time before I have my house back and furniture but It will get done. PuroClean, I cannot thank you enough for all you did for me and my family. Yes I am still in a blur but I keep hearing John's voice over and over again telling me that "Everything will be ok". And of course this happens 1 week after the entire house was finished being renovated!! Yes I am sick over this but "everything will be ok"
– Nicole P.