Office & Home Carpet Cleaning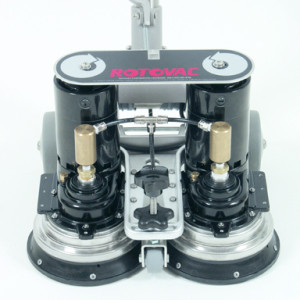 We offer professional-grade, eco-friendly home and office carpet cleaning. Thanks to our reputation for attention to detail and affordable rates, we are leaders in carpet cleaning throughout the Ulster, Dutchess, Greene and Columbia counties of New York.
Call now for a free phone estimate
(877) 248-6242
All carpet cleaners are not the same. Don't choose another service that only offers the "wand" method. Chances are your carpet won't end up as clean as it could have. Our process is more environmentally friendly than what most other cleaners offer. Better still, it actually results in a cleaner carpet. See for yourself in the image below. The carpet on the left was cleaned with a traditional manual extraction wand, the carpet on the right was cleaned with the Rotovac Powerwand (see it in action).
We guarantee that your carpets, when cleaned with the Rotovac, will be cleaner than any other carpet cleaning method.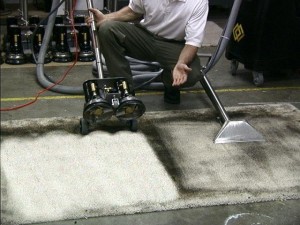 Some carpet cleaning companies use a truck-mounted extractor and manual extraction wand. There are many problems with this approach:
dirty hoses must be dragged through doors left open
manual wands only clean in two directions (back and forth)
relies on strength and energy of operator, leaves many stains and shadowing behind
Our process has none of these issues, thanks to our investment in the cutting-edge cleaning technology of the Rotovac Powerwand. We're excited to bring the advanced features of this cleaning device to our Ulster and Dutchess county carpet cleaning sites. Features include:
portable, requires no invasive truck-mounted connection
360º cleaning at 1500 cleaning passes per minute
high torque motors create consistent quality regardless of operator strength/energy
removes tough stains and shadowing that manual wands leave behind
unlike many traditional carpet cleaning devices, leaves no re-soiling residue
For large areas such as office spaces and hallways, nothing beats the Cimex machine. The deep-cleaning planetary action of the Cimex cleans all sides of the fiber in a single pass — ideal for under desks. Planetary agitation eliminates tearing carpet seams and edges. The floating brushes provide effective cleaning action. It also features non-marking wheels and triple-brush action for a truly professional finish. The Cimex is perfect for commercial carpet cleaning applications for nursing homes, schools, libraries, colleges, universities, office buildings and any other large-space applications, even larger residential homes. All across Ulster, Dutchess and Orange Counties, we use the Cimex to bring the highest level of quality cleaning to our customers.
---
Call (877) 248-6242 or get a fast, free quote right now: